Aims and Scope
Tinotenda S. Murwira, Lunic B. Khoza, Jabu T. Mabunda, Sonto M. Maputle, Mamotena Mpeta, Wilfred N. Nunu
---
Introduction:
Knowledge about HIV/AIDS is essential for facilitating safer sexual behaviour hence, it is important in controlling HIV. Therefore, in the absence of a cure for the pandemic, adequate knowledge about the virus remains the backbone of prevention efforts.
Objective:
To assess the knowledge regarding HIV/AIDS among undergraduate students at a rural university in Limpopo Province, South Africa.
Methods:
A cross-sectional descriptive quantitative survey-based study was conducted at a rural-based university in South Africa. Stratified random sampling was used to select 345 students. A self-administered questionnaire composed of 26 questions was utilised to gather data and the data were analysed using SPSS version 26. Multiple logistic regression and chi-square tests [χ2] were employed to determine the association between HIV/AIDS knowledge and demographic variables.
Results:
The overall HIV/AIDS knowledge score of students shows that (74)21% had a poor level of knowledge, (126)37% had average knowledge, and (145)42% had adequate knowledge. There was no significant difference between male and female students regarding their knowledge about HIV/AIDS. Factors, such as age, level of study, the field of study, and religion, were not significantly associated with HIV/AIDS knowledge. However, the race was significantly associated with knowledge with coloureds and mixed races, almost six times less knowledgeable than blacks.
Conclusion:
In conclusion, students had inadequate knowledge about HIV/AIDS. Misconceptions about HIV/AIDS facts, transmission routes, and prevention aspects were also prevalent among students. The present study accentuates the need for providing students with more HIV/AIDS education to fill HIV knowledge gaps and misconceptions.
---
September 17, 2021
Natalia A. Arsentieva, Oleg K. Batsunov, Alexander V. Semenov, Igor V. Kudryavtsev, Elena V. Esaulenko, Ekaterina V. Boeva, Alexey Y. Kovelenov, Areg A. Totolian
---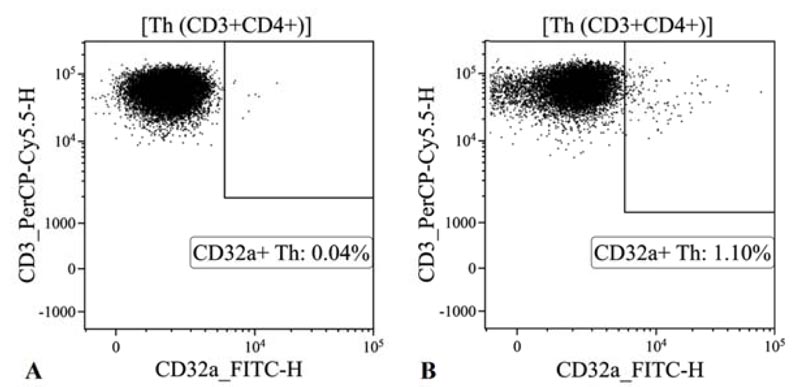 Background:
The significance of CD32a receptor expression in individuals infected with Human Immunodeficiency Virus (HIV) is currently unclear. Previously, B. Descours et al. (2017) concluded that in patients infected with HIV-1, CD32a is expressed on resting T cells that contain HIV DNA. According to the authors, these cells are reservoirs for inducible, replication-competent viruses. However, other studies have reported that CD32a expression is associated with activated T cells and is not a marker of HIV-1 reservoirs. The aims of this study were: to determine the significance of the CD32a marker in HIV infection, to assess its expression on T helper (Th) subpopulations in peripheral blood of HIV-infected individuals and to clarify the relationship between this expression and viral load.
Methods:
For comparative analysis, the following groups were used: 27 HIV-infected patients; 11 individuals with Hepatitis C Virus (HCV) infection; 16 individuals with Hepatitis B Virus (HBV) infection; and 13 healthy donors. Peripheral blood served as the study material. The expression of CD32a receptor on Th cell subpopulations was assessed using flow cytometry. Nonparametric statistical methods were used for data analysis.
Results:
It was found that relative CD32a+ Th cell counts in HIV-infected individuals significantly exceeded corresponding values in other groups: healthy individuals (p<0.0001), those with HCV infection (p=0.0008) and those with HBV infection (p <0.0001). Among the Th subpopulations in HIV-infected patients, the CD32a receptor was predominantly expressed on Th1 cells (p<0.0001) and Th2 cells (p<0.0001), compared with Th17. We found a strong, direct correlation (r=0.78; p<0.0001) between viral load and CD32a+CD4+ T cell count in peripheral blood of HIV-infected individuals.
Conclusion:
Thus, our results provide evidence that the CD32a receptor can serve as a marker of HIV infection, and its expression depends on viral load. Clinical material was used here, for the first time, to show that CD32a is predominantly expressed on Th1 and Th2 cells.
---
July 13, 2021